A Prayer for Biblical Boundaries
As I wrote in today's devotion, "When I Have Zero Time to Spare," creating biblical boundaries that protect our mission can be hard. Downright painful in fact.
Like you, I wish I could expand the 24 hour day so that I could do more. "Time for just one more thing, please!" is a prayer that I've uttered over and over.
But there's a set-in-stone-limit. Seven days a week. Twenty-four hours a day (curse you, sleep!). What's a woman to do when there are more desires and expectations swirling around her than she can fulfill?
She gets on her knees and prays for clarity from the One who made time and gives the call to fill it for His glory. I hope the simple prayer below is a blessing to you! My hope is that you'll download it, print it, and stick it in your Bible for those days that you don't have any spare time. If you seek the Time-Keeper, He'll help.
If you 're looking for more practical help for learning to set biblical boundaries, my book Exhale, co-authored with Cheri Gregory, is just what you've been looking for. The only reason that I can say that so confidently is that it's chock-full of the Scriptural lessons God has been teaching me that are helping me to live my one life well.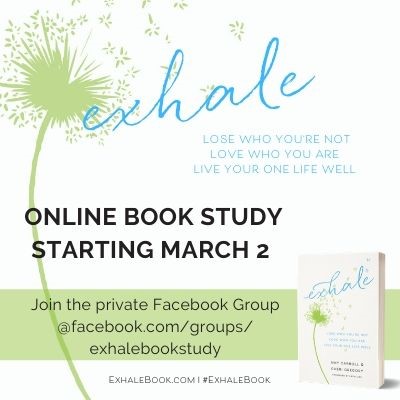 On Monday, March 2nd, we're starting our Exhale Online Book Study in a private Facebook Group crafted just for you! Request to join us today so that you don't miss a moment of the Facebook Lives, discussion and giveaways. Cheri and I can't wait to spend time with you.
There are women there from all over the world already, so join us. It won't be the same if you're not with us!