Whew! Wives, do you ever get overwhelmed like me? You truly want to do better and improve your marriage, but you need some practical advice from a girlfriend who encourages and doesn't judge?
Well, I want to introduce you to that girlfriend. Her name is Kathi Lipp, and I'm thrilled to share her wisdom with you today. Hang tight to the end for where to get more of this good, good stuff and for how to enter to win a copy of her book The Husband Project. Here's Kathi!
I am a less-than-perfect wife. And on some days, I'm a barely passing wife.
There are days that my husband deserves better. I know this. But with real life, I get real tired. And my husband – he's lucky to get leftovers (for dinner – and of me.)
So what do you do when you know you should be doing more for your relationships. But. You. Just. Can't.
Start where you are.
Maybe the past few years have been tough ones. Little kids, little money, little romance. Every marriage goes through tough times but YOU CAN start where you are and make your marriage better than it was last week. Not perfect. Not awesome. But better than it was a week ago.
It's easy to get discouraged when you don't see huge improvements in your relationship. But know, that for every little thing you do, you are investing in not just your husband, but in yourself as well.
When you buy him a great piece of chocolate for no reason, or take out the trash on a day when he's totally exhausted, or give him ten minutes when he walks in the door to decompress, it may seem small – insignificant really. But over time these little things add up to a reservoir of respect and love.
Stop comparing your marriage (and your husband) to everyone else's.
It's easy to see your co-worker getting flowers delivered at work and think, "Man, I wish my husband were more like that." But what you may not know is that your co-worker doesn't want flowers – in fact – they are on the financial edge and she is scared of losing her house due to his financial irresponsibility. She envies your husband who seemingly manages your money well and is constantly saying no to upgrades around the house, better cars, etc. to decrease the stress and pressure that things like this can put on a household.
Remember, we only get invited onto the front porch of other people's relationships – not the messy back room where all the junk can be seen.
What I would recommend instead is look at other wives and be inspired by what they are doing to improve their marriage- and then ask for help. Any wife would be honored to be told, "You're doing a great job – can you help me be better about encouraging my husband?"
Know that you can make a difference.
I think a lot of the reasons that women don't want to work to improve their marriage is that they've tried before with not great results. But here is what I've learned: You've become wiser since the last time you tried. You know more about yourself and more about your husband. You may not be able to "fix" your marriage in a week, but in a week, you can make your home a softer place to land for your husband and yourself. You can speak gently, love openly and encourage greatly – setting the stage to make even more improvements in your relationship.
Because you're worth it, your husband is worth it, and your marriage is worth it.
________________________________________________________________________________
Seriously. Don't you love Kathi already? She lives all the way on the far coast from me, but I'm plotting to lure her to NC via She Speaks and keep her here.
Do you need more of what you got here today? I do. The good news is that we can spend lots more time with Kathi this summer because Proverbs 31 Ministries' summer Online Bible Study is her book The Husband Project.
I signed up and purchased my book before I posted tonight so that I could invite you to join me. We can chat about it right here or over on my Facebook page sometimes! Click on the graphic below to go register, but before you do…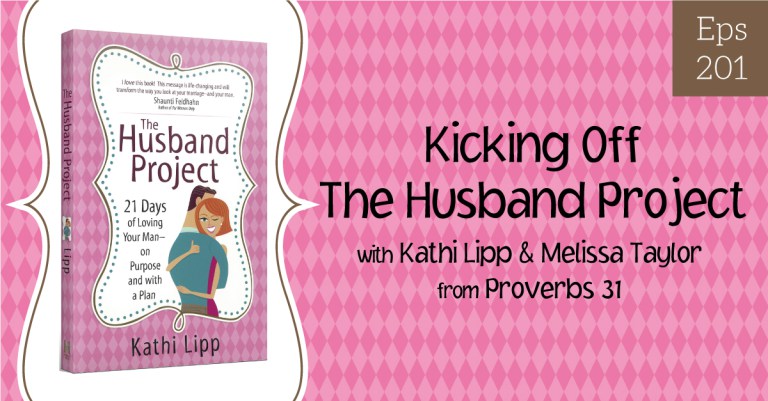 Make sure to leave a comment to enter to win a copy of Breaking Up with Perfect along with a copy of The Husband Project.