I Know His Name: Jehovah Shalom
Are you ready to experience God in fresh new ways? Then you are in for a treat today!
I Know His Name: Discovering Power in the Names of God is a new Bible study written by my friend Wendy Blight. Wendy is one of the writers for the First 5 App that is changing my life along with so many others. She is passionate to teach how the very names of God reveal His character and heart.
I've invited Wendy to share with you today about Jehovah Shalom: The One Who Brings Me Peace. (Make sure to read through to the bottom of the post to find out how to connect to more great teaching from Wendy!)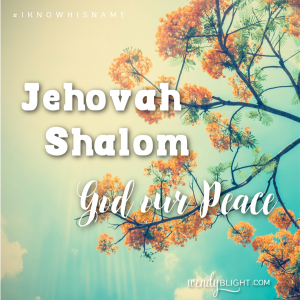 A few years ago I found myself in one of those busy seasons of life. You know, the kind where your calendar is void of white space. Where you spend your days trying to balance the daily tasks that have to be done with the fun events that keep you a well-adjusted, delightful-to-be-with co-worker, girlfriend, wife, and/or mom.
Mentally, I felt like I was balancing it all well. Reading my daily devotional and praying my neatly ordered list of prayers.
But physically, my body said otherwise.
My spirit felt uneasy. Anxious.
My heart beat erratically.
My symptoms escalated with each passing day.
Night after night, I lay awake counting my heartbeats, faster and faster they came. Lack of sleep led to exhaustion. Exhaustion to withdrawal. I felt disconnected from everything around me.
One morning I stepped into the shower.  Within moments, I struggled to breathe. Inexplicable panic ensued. I flung open the shower door, enveloped myself in a towel, and collapsed on the tile floor. Tears poured forth uncontrollably.
What was happening to me? I felt as if my life … my faith … the very core of who I am was unraveling. I felt like a failure.
I mustered what little faith I could find and dropped to my knees. It was weak faith, but it was there. I needed more. More of Jesus. More of His peace.
My sweet Savior met me right there on the carpet. He turned my eyes to my bedside table where my unopened Bible lay.
My heart ached. I had not opened that precious book in weeks. I had been reading my daily devotional. Reading what another woman had to say about the Bible. But I had not been in my Bible, listening for what Jesus had to say about His Word … to me.
I had been spending very little time with Jesus.
I crawled over to my precious Bible and opened it. With each turn of the page, truths spilled into my empty, thirsty heart … truths to cling to … to pray … to quench my empty, thirsty heart.
Truths I want to share with you today.
From the Old Testament:
"For to us a child is born … And he will be called … Prince of Peace." Isaiah 9:6 (NIV)
"You will keep in perfect peace those whose minds are steadfast, because they trust in you." Isaiah 26:3 (NIV)
From the New Testament, not forgetting our verse for today (John 14:27):
"I have told you these things, so that in me you may have peace. In this world you will have trouble. But take heart! I have overcome the world."
John 16:33 (NIV)
"Do not be anxious about anything, but in every situation, by prayer and petition, with thanksgiving, present your requests to God. And the peace of God, which transcends all understanding, will guard your hearts and your minds in Christ Jesus." Philippians 4:6-7 (NIV)
Jesus is our Prince of Peace, and His Peace is ours. It's a fruit of God's Spirit that lives and breathes in those of us who are children of God.
Believe it.
Claim it.
Now let me share the key to believing and claiming it:
Personalizing and praying these truths. When we pray God's Hebrews 4:12 living and active Word, His Word comes alive in us. It infuses every part of our being.
So, how do we go about personalizing and praying God's Word?
Here are a few of my prayers:
Wendy, I will keep you in perfect peace when your mind is steadfast, because you trust in Me. (Isaiah 26:3)
Peace I leave with you, Wendy; My peace I give you. I do not give to you as the world gives. Do not let your heart be anxious, troubled or afraid.
(John 14:26-28)
Wendy, when you stop being anxious, when you give everything to me in prayer, My peace, which transcends all understanding, will guard your heart and your mind in Christ Jesus. (Philippians 4:6-7)
______________________________________________________________________________
Want to learn more about Jehovah Shalom: The One Who Brings Me Peace? Wendy teaches about this Name of God in Chapter 5 of her newest Bible study, I Know His Name: Discovering Power in the Names of God. I invite you to visit Wendy's blog to get a sneak peek of I Know His Name and also sign up for her FREE companion devotional, "5 Days to Knowing God More Intimately."
Important note: Wendy has partnered with Proverbs 31 Ministries to lead an online Bible study class through her book. Registration ends Friday to join this class, so register today! More details and the link to registration is on her blog.