One Powerful Tool for Battling Your Overwhelm
At no additional cost to you, this post contains affiliate links that help with the maintenance of this website. Click here for full disclosure.
It was inevitable that overwhelm would hit… and it did.
For months, my Year of Impact group through Designed for Joy has been listening and learning. The first quarter we tackled racial equity. In the second quarter, we've been learning about poverty. These heart-breaking and complicated topics aren't for the weak. There's been lots of listening, and of course, it's led to feeling. To caring. As our leader, Cary Heise, had planned, all the listening and feeling was a catalyst for doing.
Following an eye-opening large group training about childhood poverty from a representative of our school system, our smaller mastermind group met to discuss. I could hear the distress in every voice.
"The are so many organizations to give to. How do I choose?"
"I could spend 24/7 volunteering to meet all the needs and never make a dent!"
"The problem is so complicated. The needs are massive. How could I ever make a difference?"
Overwhelm always results when we listen to the pain around us and join our hearts with those that are suffering.
Although overwhelm is a normal phase of developing a tender heart and a strong voice, we have to be very deliberate at this stage. It's natural to feel it, but we can't/won't live in it. We generally turn to numbing as an unhealthy way to move forward if we don't move past overwhelm into doing. But how do we know what to do when there are a limitless list of needs? How do we know what to do when there are so many aid organizations?
How do we know what to do when there's so much to be done?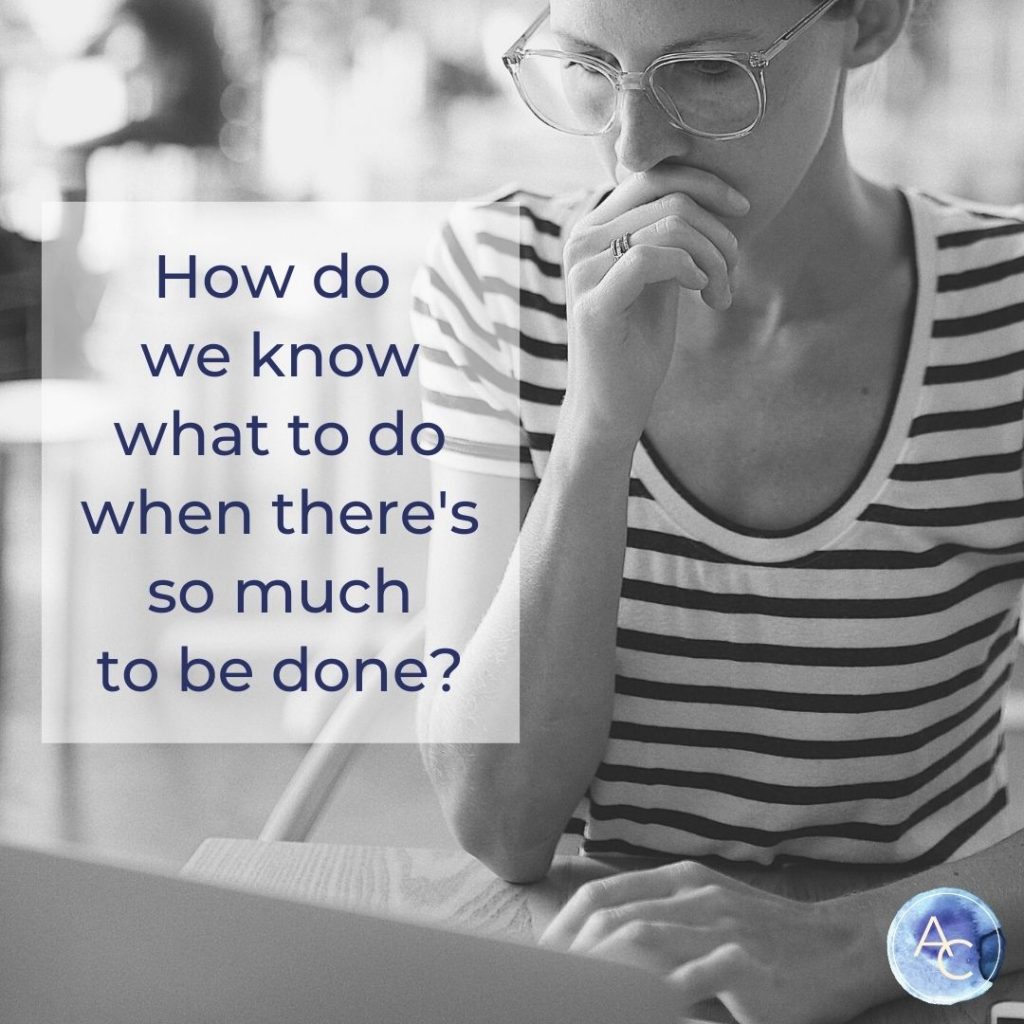 This is when we have to seek the Lord about our personalized purpose. We can't do everything, but we can do one thing. We can choose one organization and give in at least one way. This one thing is our personalized purpose. It is a powerful tool to battle your overwhelm.
In the next two posts, I'm going to talk about:
How to Identify Your Personalized Purpose
How to Put Your Personalized Purpose to Work
For those whose hearts are yearning to do a little good… For those who feel the pain of the world around you… For those who want to help but don't know where to start… This blog series is for you. Are you in?
Question for You: Do you know your current personalized purpose? (There's not just one for your life. They're often for a season. More about that in my next post!) Leave me a comment and tell me about yours.
Finally… An Announcement: Because Lynn Cowell and I just signed a contract for the writing contract I teased you about, I finally get to tell you! Lynn and I are writing a study on the book of Esther that will release summer 2022. We're beyond excited!!!!
I dug deep into the idea of personalized purpose for the Esther study manuscript. There's so much more to come in the study itself!
The Esther study will be part of the Inscribed series, a series of Bible studies for women published by Harper Collins Christian Resources.
Related Resource:
Hear Cary Heise talk about her personalized purpose at Designed for Joy.