The Simplest Way to Pray Powerful Prayers
There are a handful of people that I know that are known for prayer. I'll bet you've got a list too.
Mona, one of the mentors you've heard me talk about often, leads those that I think of as "prayer warriors", those who approach prayer with confidence. There are others– Jean, Rey and Tara just to name a few– but they all have one thing in common. These are women whose prayers are a fabric of scripture.
Just last night, I spent time praying over an upcoming conference in my area with Tara's team, and her influence was obvious. The team prayed with their Bibles open, repeating God's Word back to Him with faith and expectation. They aren't women who think they can demand and manipulate God with His own words (I've seen that version too!). Instead, they're women who know that God is faithful. His promises are true and dependable. And they know that praying Scripture keeps them solidly in His realm, the place where His will reigns.
I listened, and I participated. The prayers laced with Truth rose to heaven, but they soaked into my bones too. With 2018 being the year of "Pray", I paid attention and longed. Can I confess to you? I've known this truth for a long time.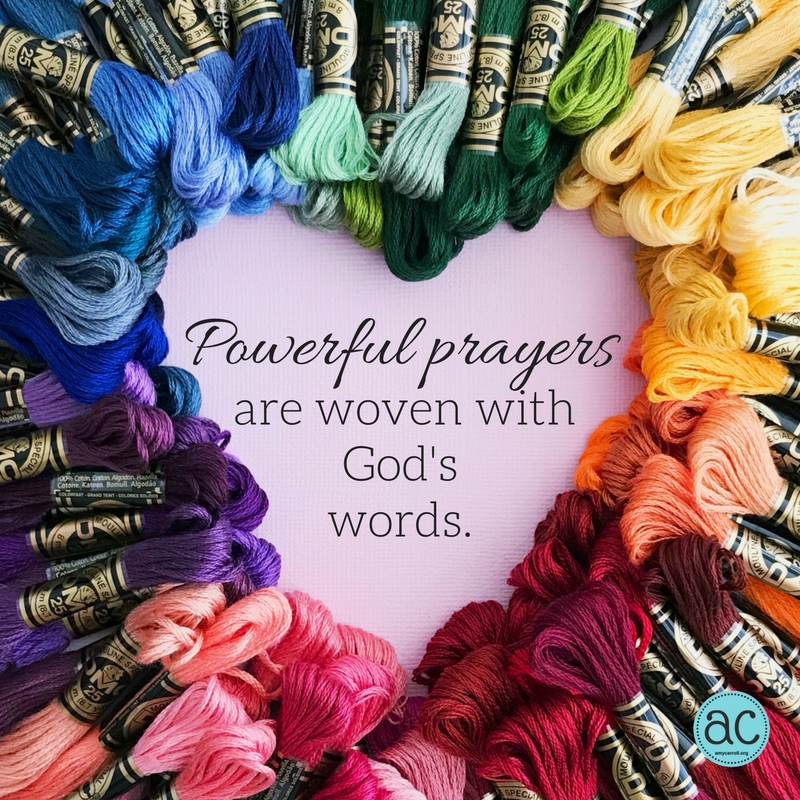 I've known this truth, but I haven't implemented this truth. This morning I had to take a look and ask why? Here are the wrong beliefs rooted in insecurity that have kept me from praying more powerfully as I integrate God's Word:
Prayer isn't my gift.  
I'm going to war on this lie! Prayer is a gift to all of us because it's simply talking to God who gives us full access. I do believe that some are given a special ability to pray so that they can lead us. Wendy Blight, for example, writes out the most annointed prayers for our Proverbs 31 team, but I don't have to allow myself to be intimidated by her gift. I want to learn from it! As we pray, God doesn't expect us to sound like anyone else. In fact, since He created us and knows us better than anyone, He's probably surprised when we do!
Those people are more spiritual than I am. 
I've fallen into the wrong belief that some gifts are more "spiritual" than others. Mine run more along practical, get 'er done lines, and I've considered them less than. Paul tells us, "There are different kinds of gifts, but the same Spirit distributes them. There are different kinds of service, but the same Lord. There are different kinds of working, but in all of them and in everyone it is the same God at work. (I Cor. 12:4-6 NIV) Let's stand secure in our own natural God-given gifts while growing in others. Prayer is my growth gift this year!
I don't know scripture well enough. 
This really gets to the root of what has held me back, and there's some truth to it. I don't have enough scripture memorized. But I took note of the women last night with their Bibles open. I need to start somewhere, so praying with my Bible open is where I'll start.
Here's how I'm fighting those insecurities:
The last two days I've written out prayers based on my morning First 5 study. Here's what it has looked like:
II Kings 18: 5-8, "Hezekiah trusted in the Lord, the God of Israel. There was no one like him among all the kings of Judah, either before him or after him. He held fast to the Lord and did not stop following him; he kept the commands the Lord had given Moses. And the Lord was with him; he was successful in whatever he undertook. He rebelled against the king of Assyria and did not serve him. From watchtower to fortified city, he defeated the Philistines, as far as Gaza and its territory. (NIV)
My prayer: Lord, I want to be a woman who trusts You completely. Make me stand beyond compare in my place in Your story. Help me to held fast to You, never ceasing to follow You and obeying Your commands. I want to be successful in all that I undertake for Your glory. Empower me to resist my enemy, Satan, and give me victory against him. Amen.
II Kings 19:30, "Once more a remnant of the kingdom of Judah will take root below and bear fruit above." (NIV)
My prayer: Lord, make me part of your remnant with deep roots below and abundant fruit above.
See how that works? I'm just getting started, but I love how God is teaching me simple ways to pray that are do-able for me right where I am!
If you prayed a prayer based on scripture today, I'd love to hear it.