It's one of my greatest joys to speak  to women and walk toward growth together. Here are a few things I want you to know about me up front:
Availability to you and your women is one of my highest priorities. I believe that some of the most important ministry happens when I'm not standing on a stage, so I'll communicate with you before the event and will be accessible at the event for your attendees. I love having conversation and praying with women at events!
Partnership is how I view my relationship with event planners. You're the lead partner, and I'm coming alongside to serve you and your women.
Fresh content that unleashes your women's passion to develop a tender heart and strong voice is my commitment for your event.
For more information about my speaking and for information to take to your planning team, click here for my professional bio.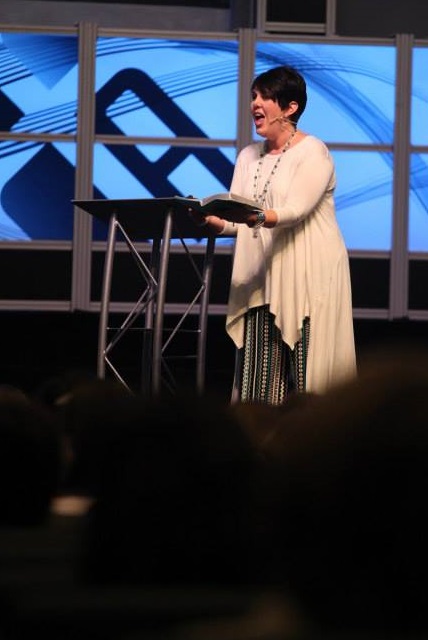 Speaking Samples
From Those Who Have Heard Her Speak
"Amy is an absolute joy! She took us on a journey through her stories that lead us right to the heart of Jesus. Amy came to us a speaker; she left as a friend." ~Dianna Corson, Event Coordinator
"Amy's humorous delivery and home-run direct-blow applications points are what make them so memorable and usable. I cannot say enough about her contagious passion for seeking God's heart."  ~Kathy Parker, Conference Attendee
"Whether in a small group, classroom or conference setting, Amy easily relates to those around her with charm, humor, and the challenge of truth."  ~Barry Lane, Pastor
"Amy's message is Biblically sound, relevant and powerful! Many of our ladies have said that she is their favorite speaker to date, and we so appreciated her teaching and accessibility."  ~Patty Baird, Event Coordinator
Topics & Booking
I've listed my current topics below with their descriptions. Please feel free to contact me through the contact form if you have any questions about these topics and how they might fit your event. Many of the topics can be done either as key-notes or retreats as needed for your event.
To book me for your event, please contact the Proverbs 31 Ministries office by clicking here.  Karen Christian, our speaker coordinator, will contact you right away to hear your vision for your event and hammer out the details, then she'll connect the two of us.  I look forward to the opportunity to talk, plan and dream together!
Retreats
**Note: Retreats are my absolute favorite! Extended time with your women including meal times and recreation as well as the opportunity to go deeper with multiple messages make my heart beat fast with anticipation of what God will do.
Exhale: Lose Who You're Not. Love Who You Are. Live Your One Life Well.
Do you feel like you're suffocating under the pressures of being all things to all people? The pressure of filling every unfilled spot at church, work and home. The pressure of trying to do it all right, make decisions that benefit everyone else, and keep everyone happy. There's a process that can release you from the unbearable weight. Then you'll be able to live the combination we all long for–fulling the desires of your heart, loving your people well, and bringing glory to God.
Rather than adding more to your to-do list, in this retreat Amy will help you to:
Move from running-on-empty to spent-and-content by investing your life in soul-filling ways.
Lose the ill-fitting rolls you've been trying to fill so that you can be lighter and freer.
Love your truest, God-created self with all your glorious gifts instead of trying to shove yourself into someone else's mold.
Live your one and only life in a way that you know truly matters.
Breaking Up with Perfect
It's so easy to get side-tracked in the pursuit of earning acceptance, creating our own perfection and working to meet others' expectations. Amy challenges "Good Girls" and "Never Good Enough Girls" to:
Replace your best efforts with true goodness
Reject wrong beliefs that lead you either to over-work or give up, and embrace God's complete acceptance.
Know God wants you to experience the joy of His closeness instead of the distance caused by shame.
Connected: Building Out of the Box Relationships
How is a busy woman supposed to build friendships? We were created for deep relationships and intimate connections, but there is a war against the very thing our souls crave. Amy uses personal stories and timeless truth to encourage you to:
Gain a new perspective on what's essential in deep friendships and build beyond shallow.
Find a balance between Facebook and face time.
Learn to move through life's messiness with precious friendships intact.
King of Hearts: Jesus, Lover of a Woman's Soul
Does God truly care about every season of a woman's life? Amy follows Mary of Bethany and her close friendship with Jesus to find the answer to this question. Come away encouraged by Jesus' extravagant love for Mary and how their relationship teaches you to:
Increase your love for God and those around you instead of living in the distraction of busyness.
Realize scripture can become a source of help for every area of your life by learning a simple study method.
Find sources of strength and improve your responses during times of stress, disappointment and grief.
Keynotes
How to Flip a Flop: Recovering from a Crushing Fail 
As unique as we all are, we all have one thing in common. We've all experienced failures and flops. They're definitely painful, but they don't have to be fatal to the story of our lives. From the lessons learned in a difficult year of her life and the biblical account of Peter's denials, Amy teaches you to:
Exhale with the relief found in embracing the truth that "you're only human".
See flops and failures as a chance to grow closer to God and others instead of disqualifiers to relationship.
Experience the confidence and joy of knowing two sure ways to flip your flops.
Creating a Life That Counts
Our lives hold endless potential, and they're meant to be invested. In this message, Amy urges women to evaluate their pursuits, choosing what truly fill us instead what leaves us hollow. She'll challenge you to:
Replace the empty pursuits of our culture with quests of substance.
Build a deeper relationship with God by loving what He loves.
Find true self-fulfillment through focusing on others.
Abandon shallow relationships and build ones with impact through generations and into eternity.
Sharing Your God-Story in Your Everyday Life (keynote and workshop)
For women who love Jesus, sharing the Life they've gained through faith usually inspires a mix of emotion.  We all desire to fulfill the call, spreading good news wherever we are, but that desire is often fused with a nervous, pounding heart and a suddenly still tongue.  Amy faces the exact same learning curve.  As a woman struggling to live the Life herself, she shares lessons learned along the way and leads you to:
Embrace consistent speech and lifestyles instead of having "church speak" and "every day speak".
Overcome hesitancy with a vibrant personal story that ignites change.
Increase fear-crushing confidence by using your experiences with God to make Jesus real for others.
Holiday Messages
Feasting on Life's Leftovers (Thanksgiving)
Sometimes a look at life leaves you feeling like you've been stuck with the leftovers.  This session is an encouraging look at hurt, disappointment and suffering from a new perspective.  Amy will encourage you by guiding you to:
Realize even hard experiences aren't wasted.
Value each difficult circumstance as an opportunity for growth.
Recognize the power of thankfulness in overcoming disappointment.
White Christmas:  Holiday Housekeeping for the Heart
What is your standard for a wonderful Christmas?  For many women, perfection is the standard by which we measure our holidays, but perfectionism sets us up for disappointment and struggle.  Amy encourages you to:
Embrace a new standard for measuring the success of the holidays.
Experience the pleasure of Christmas with a focus on relationships.
Express your true, inner self with  joy and freedom instead of celebrating "like everyone else".
With Us:  A Christmas Message
Christmas is supposed to be a time of joy and togetherness, but it can be a struggle to overcome busyness and stress during the holidays. Amy has experienced the frustration of falling short, but she knows that the baby who was sent to us, Jesus, changes everything! In this session, she will share some of the lessons she's learned and lead you to:
Overcome holiday overload and preserve time to enjoy others.
Jettison frustration by developing activities for real connection with family and friends.
Experience the reality of God's presence at Christmas instead of living in a blur.
Statement of Faith
It's also important for your church to know what I believe.  My heart's desire is for us to be a good match!  My personal Statement of Faith aligns with the one given on the Proverbs 31 Ministries site.  I believe:
One God in three persons — Father, Son and Holy Spirit
Jesus Christ's deity, virgin birth, sinless humanity, substitutionary death, atoning blood, bodily resurrection and ascension to heaven
The entire Bible is God's infallible revelation to man
Salvation by grace alone, through faith alone, in Jesus Christ alone
The resurrection of the body: eternal glory for believers in heaven and everlasting punishment for unbelievers in hell
The one true church, the body of Christ, consisting of all believers
Obedience to our Lord's command to lead people of all nations to faith in Christ and to grow in Christ-likeness
Christ's personal return to establish His Kingdom on earth
The Holy Spirit indwells and empowers believers and is given as a seal and a pledge of our inheritance in Christ Jesus
God created man and woman, and marriage is a holy union between a man and a woman.
This Statement of Faith does not exhaust the extent of my beliefs. The Bible, as the inspired and infallible Word of God, serves as the final authority and source of what I believe concerning truth, morality and proper conduct.