The Things that Make God Angry
Since I was a little girl, I've been uncomfortable with negative emotions. Don't get me wrong, I've expressed plenty of negative emotions– tantrums, meltdowns, down days that I wanted to stay in bed– but they've always felt bad or wrong. For example, I would shut out God if I couldn't bring my sunny self.
I'm gaining a healthier view, but for a long time I carried an over-simplified categorization of emotions as "positive" or "negative." You can probably guess the breakdown:
Positive emotions– Joy, happiness, gratitude, love, generosity, peace, hope, serenity, confidence…
Negative emotions– Sadness, despair, stinginess, hate, overwhelm, turmoil, hopelessness, insecurity…
You get the gist, and the funny thing is that some of these came from lists I found when I Googled "positive emotions list" and "negative emotions list." I'm not the only one that categorizes this way. The internet doesn't lie!  Yet, I took these categories one step further. One step too far. I wrongly thought:
Negative emotions are unrighteous.
That statement is untrue because our perfect and holy God holds some of what I've considered "negative" emotions– anger, hate, jealousy, and grief. Because God also feels these emotions, we can safely say that these feelings can actually lead to righteousness.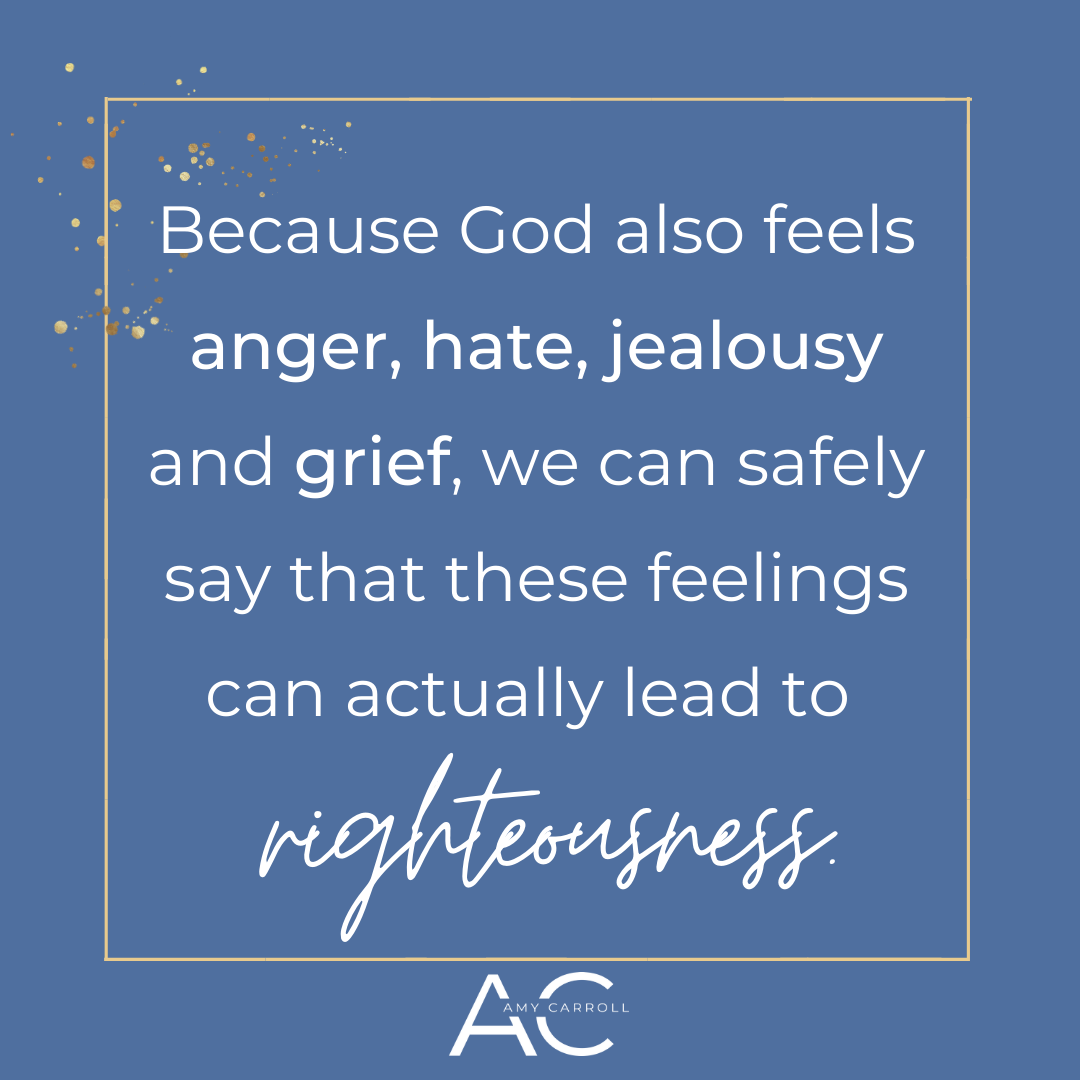 Context is really important. I'm pretty sure most of my meltdowns haven't been a bit righteous, but we can't define all negative emotions as bad.
Let's take God's anger as an example. Psalm 7:11 says, "God is a righteous judge, a God who displays his wrath every day." Wow. Wrath every day is a lot of wrath, but the cause of God's anger is what maintains His status as a righteous judge. His wrath is fueled by:
Wickedness (Romans 1:18)
Disobedience (I Kings 11:9-10)
Dishonesty (Proverbs 11:1)
Injustice (Proverbs 17:15)
In relation, there are things that God hates which stoke His anger:
Proverbs 6:16-18

 

haughty  eyes

a lying tongue

hands that shed innocent blood

a heart that devises wicked scheme

feet that are quick to rush into evil

a false witness who pours out lies

a person who stirs up conflict in the community

Psalm 5:5

the arrogant
those who do wrong

Psalm 11:5
From my last post, we know that God's feelings are immutable and incorruptible. Now we've established that even God's negative emotions are righteous and leveled at unrighteousness. I'll write about how these truths inform us how to engage our emotions in godly ways, but let's part with a few questions to consider:
How does God's anger and hate inform how I look at the world?
How does the sacrifice of Jesus expand on the story of God's anger?
How does the cross combine God's "positive" and "negative" emotions?
I'd love to hear your thoughts as you're processing with me!
______________________________________________________________________________________________________
When I was out shopping yesterday, I was assaulted/delighted by all the Christmas displays. (I LOVE Christmas, as you can hear in this fun episode of Grit 'n' Grace, but before Halloween? Really?)
So, like most of you, my Christmas shopping list was jump-started. If you're in that mode now, I have great news! Christianbook.com is running a great sale on Exhale: Lose Who You're Not. Love Who You Are. Live Your One Life Well., and shipping is free with a $35 purchase. If you buy a copy of Exhale for Aunt Sally, cousin Joan, your best friend Marge, and your neighbor (you know she really needs it), you'll have lots of your bases covered at a bargain! Click here to order. Coupon code: MEGASALE19