At no additional cost to you, this post contains affiliate links that help with the maintenance of this website. Click here for full disclosure.
Today, I'm giving you a little interlude so that you can hear a new voice on the blog. I connected with Isabel Tom months ago right before the release of her new book, The Value of Wrinkles. I was so taken with her message that advocates for the older generation that I promised her a spot on the blog. She has a tender heart for the elderly and a strong voice that speaks out for them. Enjoy her timely and lovely message!
Psst… and hang in there to the end so that you can enter to win a copy of her book.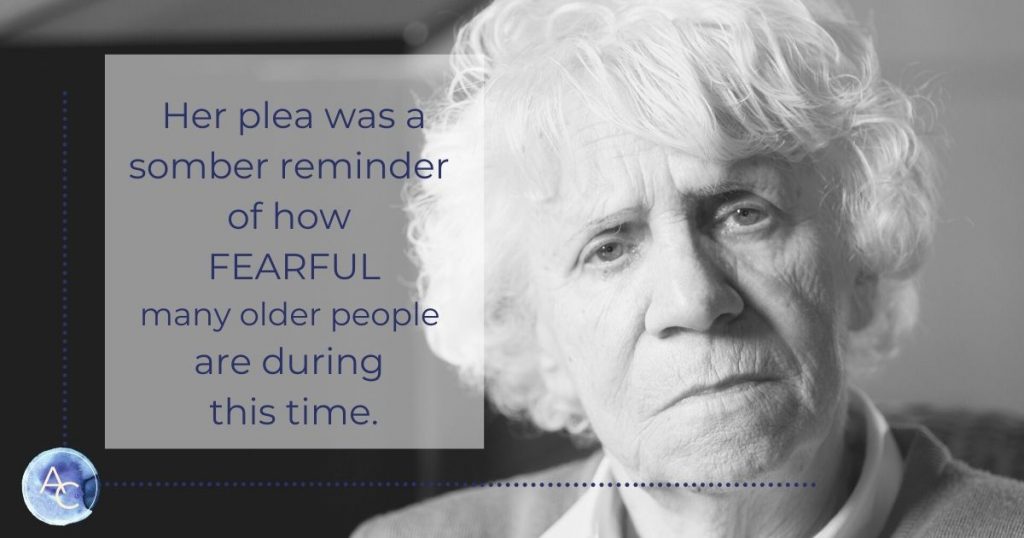 Use Your Voice to Love
Over the past two years, I've spent every non-mommy minute stealing away to write a book about a generation I have such respect for. It seemed impossible at times. All too often, the devil whispered into my ear that as a mom of three little ones, I could excuse myself from the project. You don't need to do it. In fact, you can't do it, he seemed to say.
People have always told me how unique it is for a "young" person like myself to have such a passion for serving the older generation. From the time I was born, God has given me insight into the life of an older person. As a grandchild. As an adult child. As a senior care professional. God has stirred in me a passion to love the older generation. To be a voice for them. When God gives us insight into other's needs, he gives it to us not just for knowledge sake, but so that we love others more effectively.
Today on our daily stroll, my kids and I approached an older woman walking her dog. Hearing the pattering of little feet coming her way, the women looked up and instead of smile, she snapped "STAY AWAY!" with hands motions and all. I was shocked. As she rushed away with her dog, I wasn't offended. Her response was completely understandable considering the circumstances. Her plea, however, was a somber reminder of how fearful many older people are during this time.
And so my heart breaks for my friends who are immunocompromised, for my friends who live alone, and most of all, my heart breaks for the older generation. Since the coronavirus popped up, I have sensed their fear. I have sensed sadness of having to distance from family too. As we see others struggling during this time, let's use our voices to boldly love another. Let's use our voices to calm someone's heart. To cheer someone's souls. To remind someone they are not alone. Here are some ways you can use your voice to love during this time:
Call your aging parents/grandparents to ask how they're feeling. Offer to help. Or just call to chat.
Call elderly neighbors and offer to help them pick up medications or groceries.
Intentionally, step out to your deck or front step when you see a neighbor outside. Just bless them with "hello."
Check in on your single friends to let them know you're thinking of them. Bless them with conversation.
Call older church members and ask them if they need technical assistance so they can stream church service. Ask how you can pray for them.
Send a family a fun video you found to let them know you're thinking of them.
Sometimes, we don't want to bother others, so we wimp out. We don't reach out. During this time, remember that people are home. They are picking up your phones. They are happy to hear a person's voice. They are yearning for community. Knowing that, let's listen to the Holy Spirit's leading and no matter how unprecedented your actions may be, in obedience and boldness, let's use our voices to calm, comfort, and love.
Enter to Win a Copy of Isobel's Book:
Your comment today enters you to win a copy of Isabel's book, The Value of Wrinkles. Simply leave the name of an elderly person in your life who you'd like for us to pray for.
About Isabel:
ISABEL TOM is the author of The Value of Wrinkles: A Young Perspective on How Loving the Old Will Change Your Life. Between growing up in an intergenerational household and working in the field of aging, Isabel has over 35 years of experience with older adults. Her grandparents, who lived until 98 and 102, had a profound impact on her life. Professionally, she has over 13 years experience working at reputable healthcare organizations. She holds an MPH from the University of Maryland, College-Park. She is also a wife and mom of three little ones who keep life fun. Connect with Isabel at www.isabeltom.com.